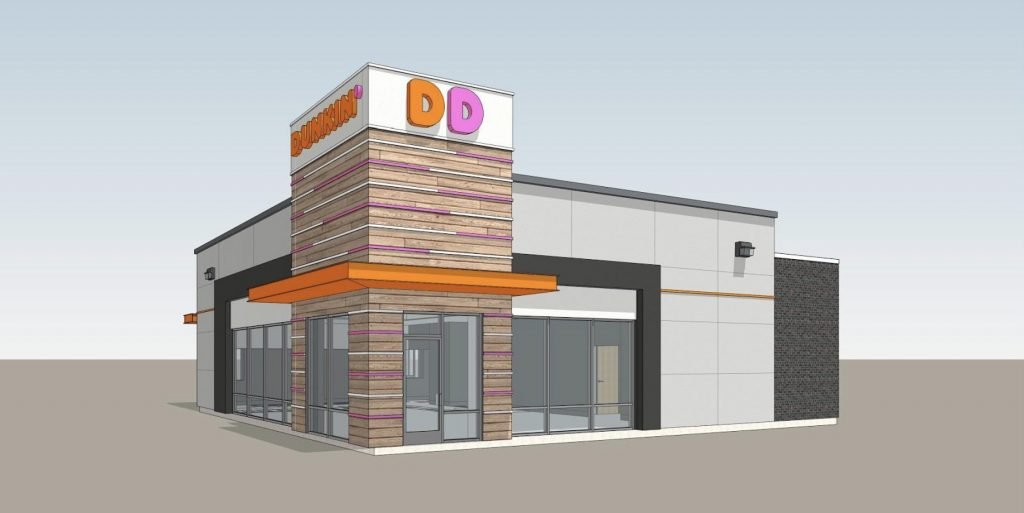 "NEXTGEN" DUNKIN' TO OPEN AT CENTRAL & ROCK ROAD
NewDays LLC and ICT Capital are working together on a new project to build a 2,000-square-foot "NextGen" Dunkin'. The restaurant will be located at 360 North Rock Road, one of the busiest and most desired areas of Wichita.
ICT Capital was able to bring this concept to life with a healthy mix of ingenious thinking, insight and collaboration. Promising a futuristic approach to coffee serving, donut bagging and a socializing environment, the latest Dunkin' is set to open in early August.
This project will include a redesign to the current LoanMax building to the north of the new store. With the help of Ink Construction and Clarkitecture, these updates will accommodate the new, free-standing Dunkin' restaurant complete with a drive-thru.
"We are really excited about this location on Rock Road off of Central. This was a challenging property but one well worth the effort," said Doug Malone of ICT Capital.
Dunkin' will serve handcrafted hot and iced espresso beverages using a new and much-awaited espresso recipe, as well as other hot, cold and frozen beverages in addition to their world-class donuts, bakery goods and breakfast sandwiches.
The "NextGen" restaurant experience will include a modern design that is open and bright. However, the most exciting news for coffee lovers might be the new Premium Pours. Signature cold beverages are now served through an innovative tap system serving eight consistently cold beverages such as coffees, iced teas, cold brew coffee and new nitro-infused cold brew coffee.
With the hustle and bustle of this area of town, Dunkin' promises to pour coffee faster than ever before, all while pleasing the tech-savvy community as well. The coffee chain has introduced an area dedicated to mobile pickups, so that members of the DD Perks® Rewards program can order ahead via Dunkin's Mobile App. Guests will be able to track the status of their orders placed for pickup inside the restaurant via a new digital order status board.
Additionally, the new restaurant is energy efficient as a DD Green Achievement™ restaurant. The new design will save 25 percent more energy compared to a standard Dunkin' restaurant.
Customers can expect the same service they have become accustomed to at other area Dunkin' stores. Customer service is always their number one priority. Recently, out of 500 stores, NewDays LLC received an award for Restaurant Manager of the Year for the Western United States.
Construction began this week on the Dunkin' restaurant. This once challenging property has now become home to Wichita's newest and most innovative coffee shop.
ICT Capital is an investment and development group headquartered in Wichita, Kansas. 
NewDays, LLC is the franchisee group located in Wichita, Kansas. NewDays owns and operates five area Dunkin restaurants. In the last five years, they have built stores in the most desirable areas of Wichita/Derby. Hours of operation are 5am-9pm, seven days a week.