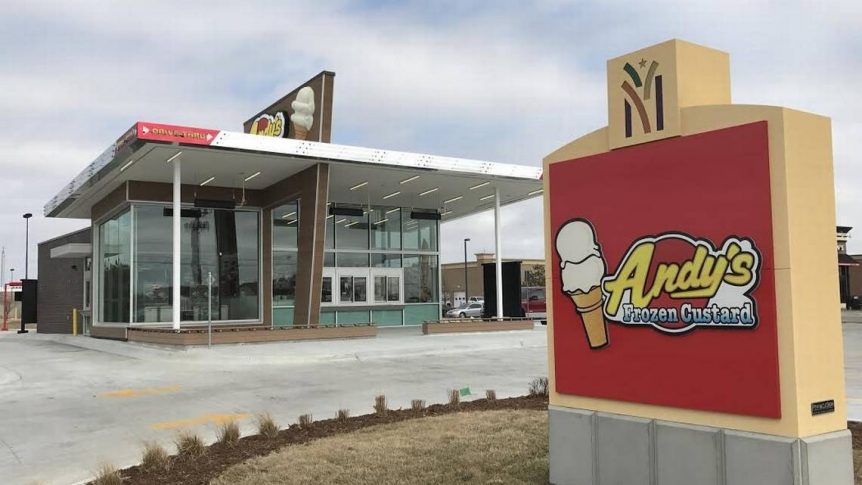 WICHITA RUNS ON DUNKIN/h1>
Dunkin's new store concept is now open daily from 5 AM to 9 PM at 364 North Rock Road. NewDays LLC and ICT Capital worked together in the development of the 2,000-square-foot "NextGen" store. It is only the second Dunkin NextGen store in Kansas.
Dunkin' Donuts' latest "NextGen" shop — branded simply "Dunkin" — isn't just shiny and new, it's designed to enhance the customer experience.  The newest features will include an updated interior with a modern atmosphere and new and innovative technologies. The tap system is reminiscent of a local brewery and serves eight consistently cold beverages such as coffee, iced teas, cold brew coffee and nitro infused cold brew coffee. In addition to a futuristic store model, members of the DD Perks® Rewards program will be able to pick up their coffee from a dedicated area for mobile pickups via Dunkin's Mobile App. Dunkin' is aiming to streamline operations for the sake of speed and convenience above all.
"The redesign of the store better showcases our products. The donuts and baked goods will now be stored in a glass case built into the front counter instead of against a back wall. The debut of the new concepts marks one of the most important moments in Dunkin's growth to distinguish itself as a beverage-led and on-the-go brand," said Dan Day of NewDays LLC.
In less than 100 days from starting the project, Dunkin' has opened their doors in one of Wichita's busiest and most desireable corridors. Ink Construction and Clarkitecture were involved in the development of the new Dunkin' store.
"Through creativity and collaboration between our partnerships, Dunkin' has found their new home. This was a challenging piece of property to develop and we are excited to bring the most innovative coffee shop to east Wichita," said Doug Malone of ICT Capital.
This is the fifth Dunkin' built by NewDays LLC in Wichita, Andover and Derby, Kansas.
"We're excited to serve the families of Wichita and we're looking at other areas of town to bring the Dunkin' brand," said Day.
###
ICT Capital is an investment and development group headquartered in Wichita, Kansas. 
NewDays, LLC is the franchisee group located in Wichita, Kansas. NewDays LLC owns and operates five area Dunkin' restaurants. In the last five years, they have built stores in the most desirable areas of Wichita/Derby. Hours of operation are 5am-9pm, seven days a week.